1. Introduction2. Measure your feet3. Check shipping & handling policy4. Check Return Policy5. Shopping Tips6. Shop Smart & Safe7. Conclusion
Shoes are one of women favorite items to buy. Some people have shoe collection in the thousands. While shoe lovers still loves the experience of buying in a physical store, you have wide variety of online store right on your computer selling shoes that you may not get in your favorite shoe store. What are the advantages of online shopping?
If you don't have much time to go around for shopping online store can be your thing as they are open 24-7.
Shop in the tranquility of the home
Online stores have a huge portfolio at disposal your disposal
Find shoes that you won't find in you vicinity
The following graph illustrate some of the reason why consumers like online shopping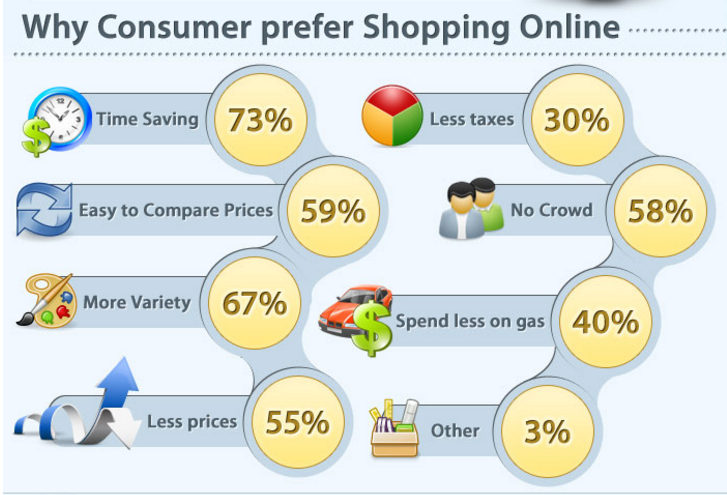 When it comes to shoes, though, many people become absorbed in doubt before completing the purchase. We thought we might help you release some of the headaches and doubts by providing you with the Science of how to buy shoes online.
Measure your feet
Since you will not be able to try the shoes on before buying, it is important to know the exact size of your foot. Look at the size of the shoe which currently fits you well. Measure your feet at the end of the day, because after you have done some walking and standing your feet might be a bit wider then it normally is when you wake up in the morning.
You should also be aware of any foot problems or conditions you have, such as flat feet. To get a details steps of how to measure your foot see this article of of wikiHow and/or this follow video;
If you want to be very precise with your foot size, buy a Brannock foot measurer online. This is the tool that stores use in order to measure the length and width of your foot. Buying this device will help ensure you are buying the correct size.
Ultimately if you own a shoe from that brand that you want to buy, use your current pair's size as a reference. If you don't you can still go to a store where they carry this shoe brand and try it one. This will give you a feeling of what to expect from this brand. If the shoe brand you want to buy is not available in your area use the measuring techniques mention above.
Check out the store shipping & handling policy
Make sure they ship their products to your area. If not, skip this store.
Check out the store return policies
Since you won't be able to try on your shoes beforehand, you should read the store's return policy carefully. Be on the lookout for:
how much time the store allows for returns
whether you or the store would pay for return shipping
whether the store offers a full refund or store credit only.
Shopping and tips
Shoes images; Choose a site where the images are large enough or they have a zoom in option, so you can see the details from multiple angles.
Materials; The material doesn't tell everything, so make sure you read the description and details of the product. Carefully read the materials used and, if you have any doubt, do not hesitate to contact customer service or open a live chat with the online store. Many stores now have this additional service. You can get an answer quicker this way.
Colors; Again look at the description and details as the image won't show you the true color of the shoe. If you are not sure contact customer service or open a live chat with the online store.
The right size; Using your feet measurements (make sure you do this before buying a shoe online) look at the size chart to make sure you are ordering the correct size.  If the online store doesn't have an size chart, look at the description and details. They may have some size information here. If they don't contact customer service or open a live chat with the online store. Use the following charts to convert your measurement to inches or cm. Remember to measure your feet at the end of the day.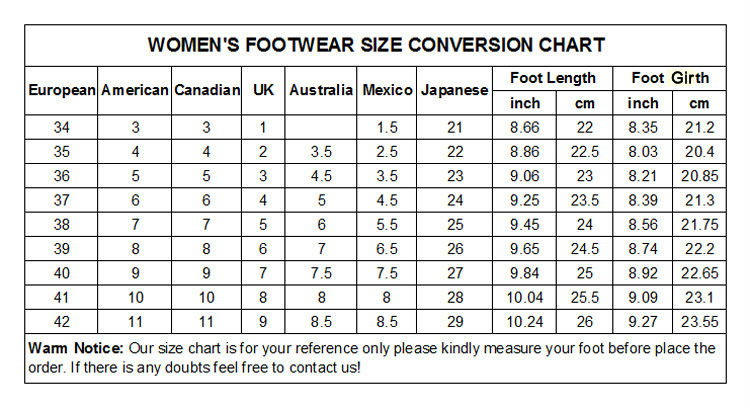 Place your order, but shop smart and be Safe
There are allot of thieves and scam artists online. Before you checkout look at the following tips.
Make sure the online store has a Secure Sockets Layer (SSL) certificate, indicated by a padlock icon in the lower right-hand corner of your browser window when you reach the checkout page.
Our preference payment method are PayPal (widely regarded as the most secure way to shop online) or Credit Card (pre-paid/Virtual). Avoid using debit card because a hacker who obtains access to your debit card can clean out your whole bank account.
Don't ever give extra information that doesn't make sense to you while purchasing a shoe. An online store should usually only ask for your name, billing info, shipping info, and an email address. That is it!! If they ask anything else don't fill this in. Most of all NEVER reveal your ID or Passport number to them.
In conclusion
Your first order should be a test. When you buy shoes from a certain store or a certain brand the first time, order a single pair, so you can test the fit of a certain shoe size. Once you find out the correct fit, feel free to shop until you drop. Last but not least once the shoes arrive, try them on right away. Don't go outside with them. If you have a carpet walk around on the carpet. You don't want to damage them and make it impossible to return them. Also when you try them leave the labels on. This way if there is anything wrong you can return them right away.